The Aargau location
The Aargau location - your advantage
Thanks to the most favorable combination of the most important location factors, the Canton of Aargau is a perfect location for your company and your family.
As a technology location, the Canton of Aargau offers an unbeatable overall package. Its various favorable location factors make the Canton of Aargau to an attractive site for companys.
Both the prestigious rating agency Standard & Poor's and the CS and UBS rankings give Aargau top marks.
As the map illustrates: The Canton of Aargau has a very central location within Switzerland and Europe, contributing significantly to its attractiveness.
Location
Map
The canton of Aargau has a privileged location: situated in the heart of Switzerland and Europe, boasting excellent regional, national, and international transport connections. The distances are short – you'll get to your customers quickly, just as employees and partners can reach you quickly! There are two airports that can be reached within an hour. Thanks to a dense public transportation network, the A3 and A1 highways and a well-developed road network, the canton of Aargau has excellent transport links.
Short distances and excellent infrastructure ensure excellent connections in Switzerland's most attractive economic region.
Education and Research
Training and investigation centers
High-tech – innovation – specialists: The high-tech canton of Aargau offers the best conditions for successful companies – particularly because of its various highly acclaimed education, training, and research institutes.
High-tech excellence and internationality have been shaping the economy of the canton of Aargau for more than a hundred years. Its local education, research, and development institutions can look back on a long, successful tradition. While the "High-Tech Aargau" program is helping ensure that the best available technologies are being applied in industry, the universities of applied sciences in northwestern Switzerland are training the next generation coming from the five cantonal secondary schools, making sure that sufficient qualified specialists are available.
In Aargau, the cooperation between industry, research, and education is given central importance; this is reflected in the successful projects implemented by the universities of applied sciences.
The Paul Scherrer Institute (PSI) with its large research facilities is well known far beyond the national borders, both for its basic research and for the application of the knowledge gained. As a national innovation hub in the immediate PSI vicinity, Park Innovaare is another expression of the canton of Aargau's innovative capacity.
It's not surprising that the proportion of employees working in research and development in Aargau is twice as high as the Swiss average.
Business Clusters
Key sectors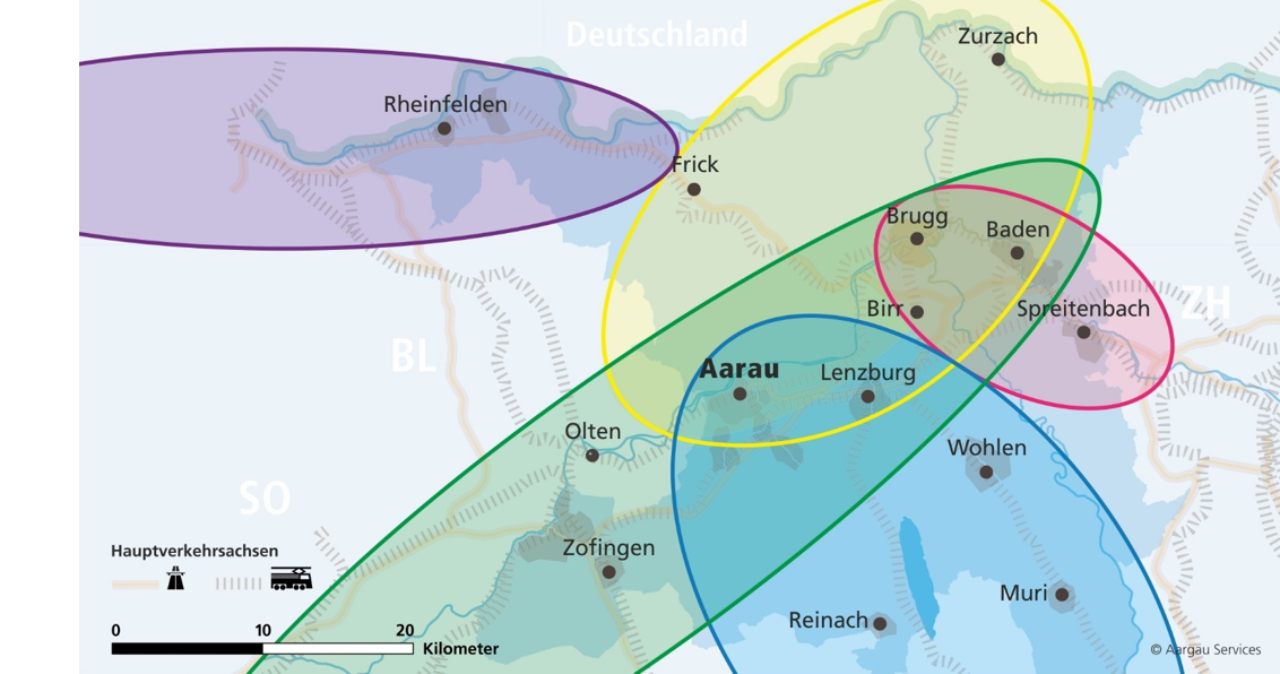 Sectors/ clusters
The canton of Aargau has strong industry, featuring strong sectors and clusters that have spread throughout the canton. The map impressively illustrates the point:
Green: Medtech
Violet: Pharmaceuticals
Yellow: Energy tech and electronics
Blue: Plastics, engineering, and metal industry
Red: ICT
Employees
The indispensable basis for every successful company: motivated employees and qualified specialists. No problem in Aargau: the many specialized companies located here and the training and research/development institutes help ensure that there are sufficient young recruits, specialists, and managers available. The region's proximity to national and international markets also makes Aargau a strategically well-positioned business location, able to guarantee a flourishing economy.
Employees and companies
The canton of Aargau boasts an exceptionally strong industrial base: about one-third of all employees work in the private ("second") sector. There are about 40,000 companies based in the canton, employing 334,000 employees. The second sector is thus the canton's most important "employer". At the same time, the cost of living, wages, rental rates, and land prices are 10 to 15% lower than in the surrounding cities.
Quality of life
Nature adventures, cultural highlights, and sports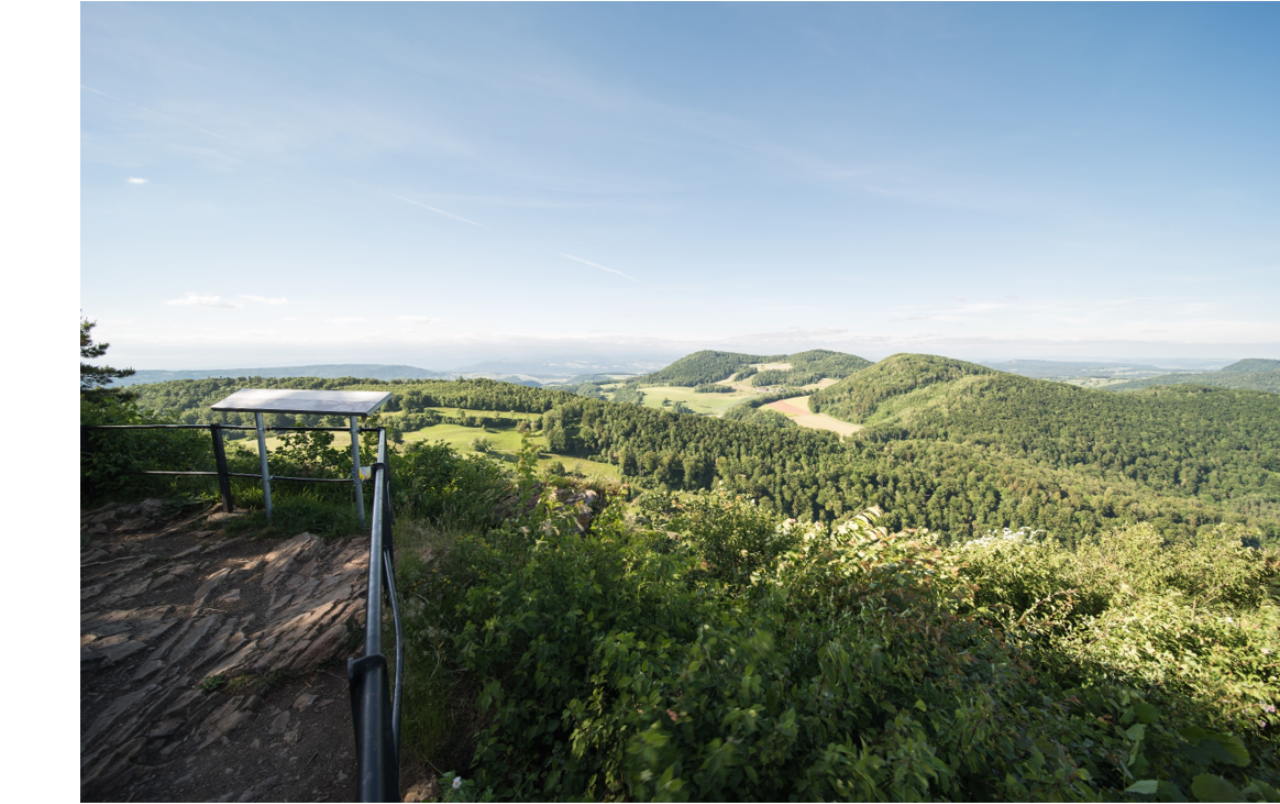 If you enjoy outdoor activities and appreciate cultural opportunities, you will feel at home in Aargau. Particularly families will find countless leisure activities and many local recreation areas here. This is a wonderful place to live:
Idyllic cultural region: Aargau is not only known for being an idyllic residential region with many local recreation areas offering rest and relaxation, but it's also known as a canton of culture with small historic towns and a wide range of events.
Sights from times past: Medieval castles and stately palaces bear witness to an eventful past, including the Habsburg family castle, Lenzburg castle, Wildegg castle, and Hallwyl castle.
Well-known art heritage sites: The internationally acclaimed Aargauer Kunsthaus in Aarau houses a comprehensive collection of Swiss art; the Museum Langmatt in Baden is home to Impressionists and exhibitions of contemporary art. Aargau offers art lovers a wealth of opportunities.
Sports and health: Aargau offers unlimited possibilities for sports fans and those interested in doing their health a favor, for example:

The largest network of cycling trails in Switzerland
Over 1,500 km of hiking trails
Several golf courses
Birrfeld Airport
Relaxation and wellness in the four thermal spas: Rheinfelden, Baden, Bad Zurzach, and Schinznach
Useful tips
Cost benefits
Taxes and wages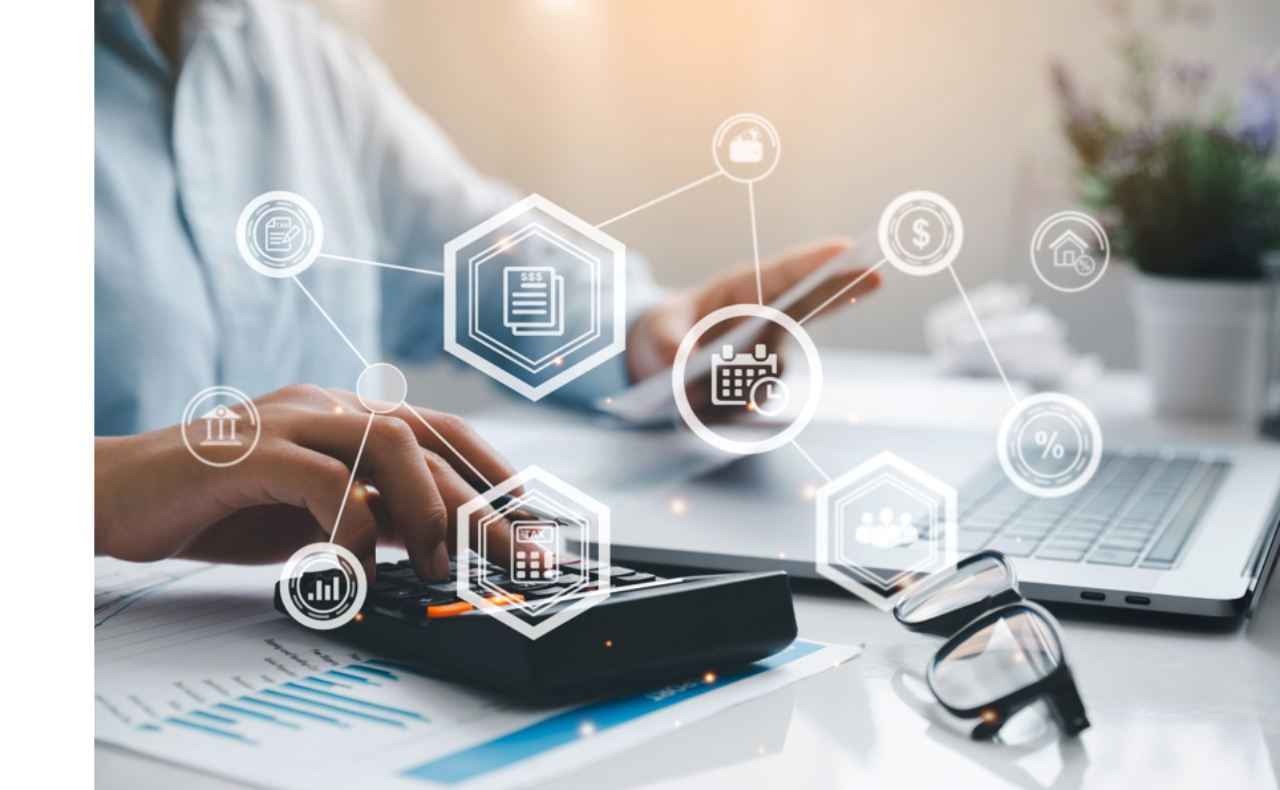 Aargau offers not only optimal conditions for work and recreation, but also an attractive tax climate, low property prices, and moderate wage costs.
Low tax burden: Entrepreneur-friendly taxes and collaborative cooperation with the tax authorities (e.g. tax rulings) mean a lower tax burden for you than the Swiss average!
Affordable commercial and building land: You will benefit from comparatively low prices for commercial building land and for office and residential space. Housing costs, for example, are about 15% lower than in Zurich and Basel!
Low wage costs: On average, wage costs in Aargau are ten % lower than in the nearby economic centers Zurich and Basel! Employees in Aargau still have a higher income thanks to the lower cost of living.