The Hightech Aargau program offers Aargau-based companies attractive conditions and support services for their innovation and research activities.
Innovative capacity, excellent economic conditions and high standards of quality – these are the success factors in Switzerland's economy. Thanks to "High tech made in Aargau", SMEs and large multinational corporations are right at the forefront of this success. Whether in the life sciences, energy technology or engineering in general: Aargau's economy relies on state-of-the-art technology to ensure its competitive edge, also for the future.
Hightech Aargau is the program the canton has designed to promote exchange and collaboration between SMEs, institutions of higher education, research institutes and large corporations with an international focus. The program has been very well received since its implementation in 2013 – and has already been extended twice. To find out more, see our article Hightech Aargau – the program promoting innovation in the canton of Aargau.
Aargau – the high tech location
Groundbreaking solutions always result when a passion for research and the spirit of entrepreneurship converge. The unique research and production landscape in Aargau provides ideal space for innovative, future-oriented companies.
The high tech champions league plays in Aargau. Here, companies find excellent partners in all sectors, benefiting from attractive funding opportunities that enhance their innovative capacity and competitive edge. In addition to the research and competence centers of world-leading corporations in energy technology, pharmacology and chemistry such as ABB and Novartis, the canton of Aargau is also home to numerous prominent research institutions and technology transfer centers: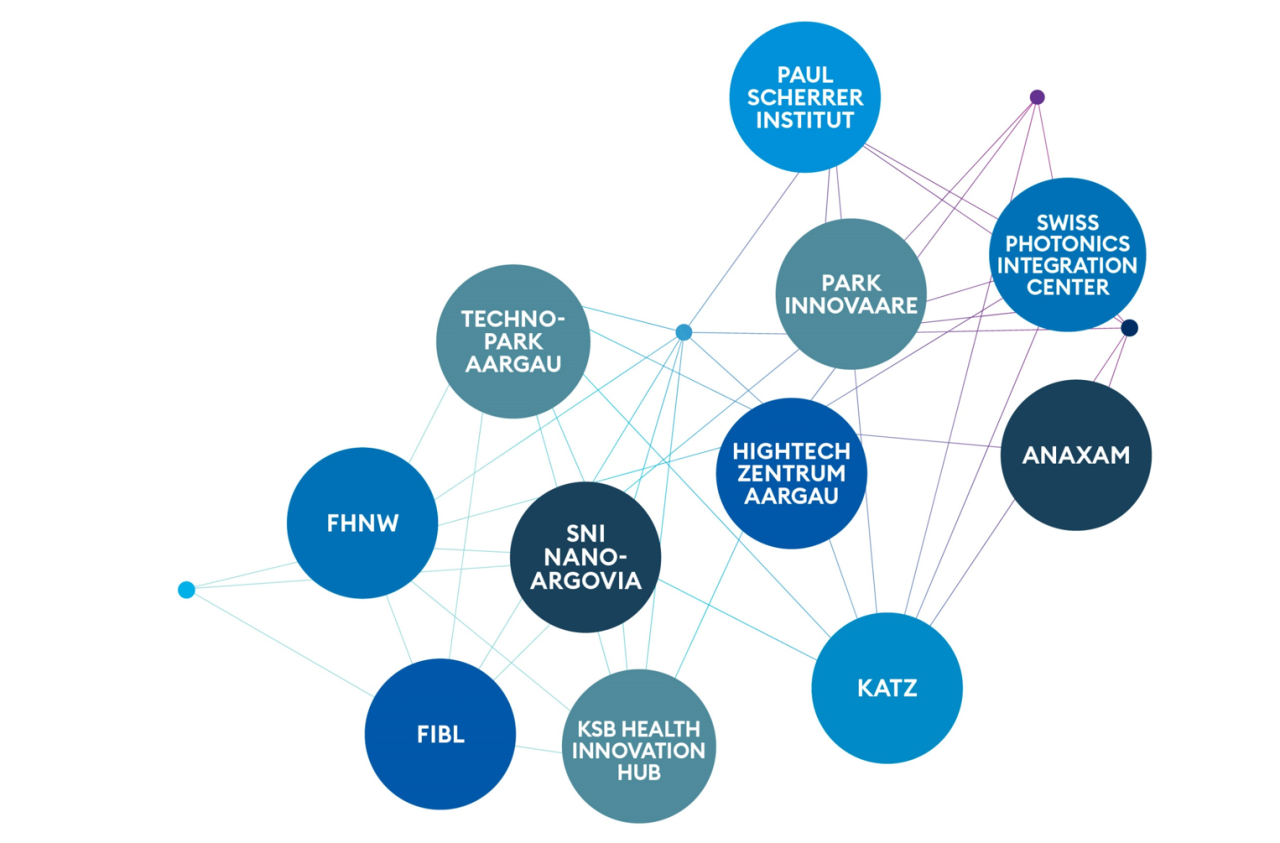 Hightech Zentrum Aargau
At the Hightech Zentrum Aargau, your company will benefit from the expertise and network of qualified professionals with in-depth knowledge and many years of experience across various industries. The team of experts brings together competencies in the areas of innovation, energy technologies, resource efficiency, materials technologies, nanotechnologies, general technologies, Industry 4.0, digitalization and other future topics. With its extensive network and wealth of professional advice, the Hightech Zentrum Aargau is the hub for all stakeholders, serving as a driver of innovation in and for Aargau.
The Hightech Zentrum Aargau provides support for feasibility studies, offers advice for all project stages – from the idea and the planning all the way to implementation – and, if necessary, can help connect you with opportunities for funding.
The modular service offer:
Click here for reference projects: Reference projects | Hightech Zentrum Aargau
Forschungsfonds Aargau
Forschungsfonds Aargau, the funding instrument established by the canton, makes funding available for innovation projects. The funds are awarded for applied research and development projects pursued by Aargau companies partnering with institutions of higher education. To find out more, click here: Forschungsfonds Aargau promotes innovation in the economy | Hightech Zentrum Aargau
Focus on service
In Aargau, your company is at the center of what we do! Here, you will find access to current research results, the best technologies, key leaders and funding that will play a decisive role in driving your innovation projects. This will free you to invest your energy in what will give you a competitive edge: developing efficient processes, innovative products and services.
Aargau Services is your single point of contact in the canton. We are here to put you in touch with important internal and external experts and networks and offer you many additional services.